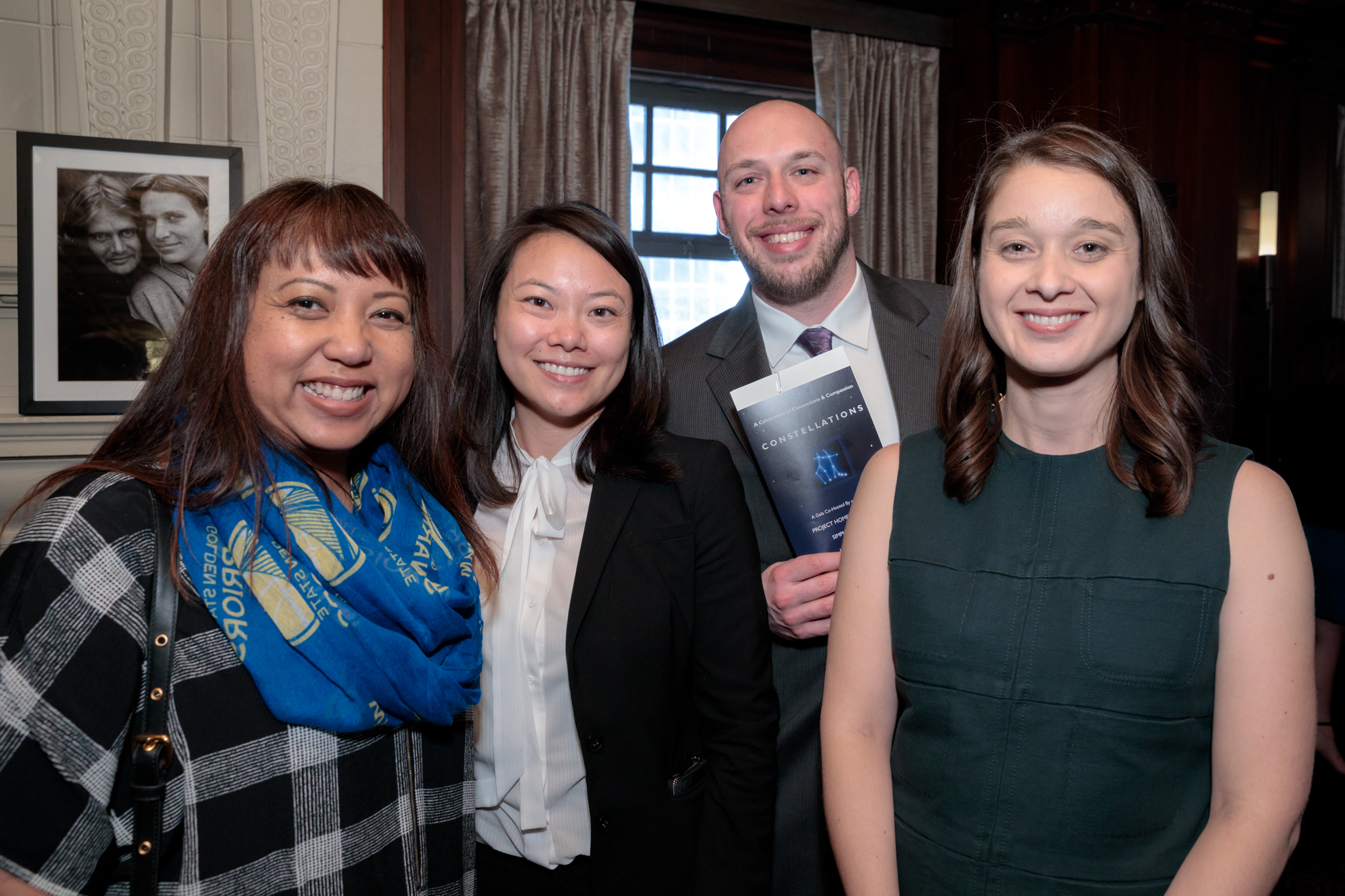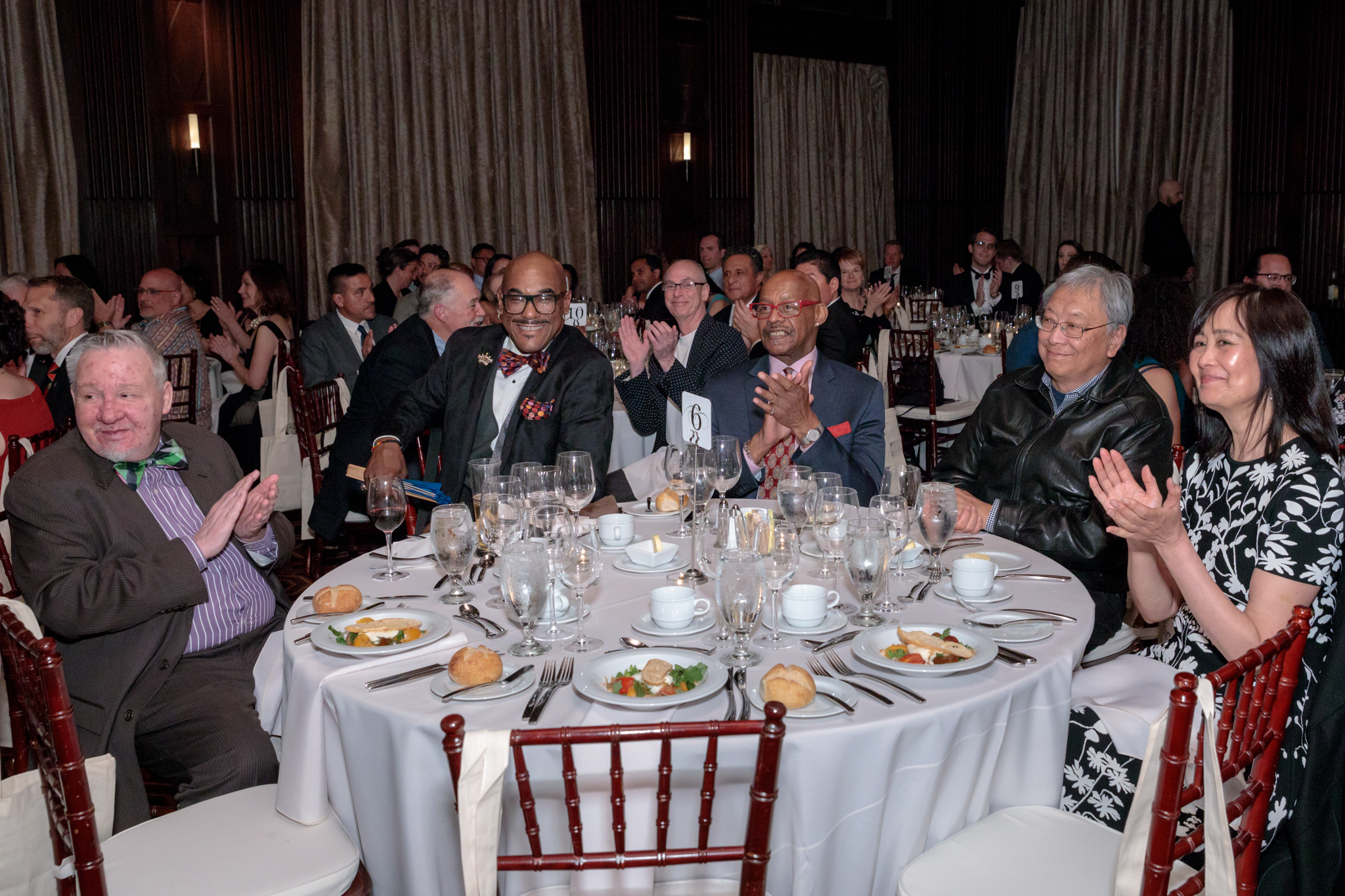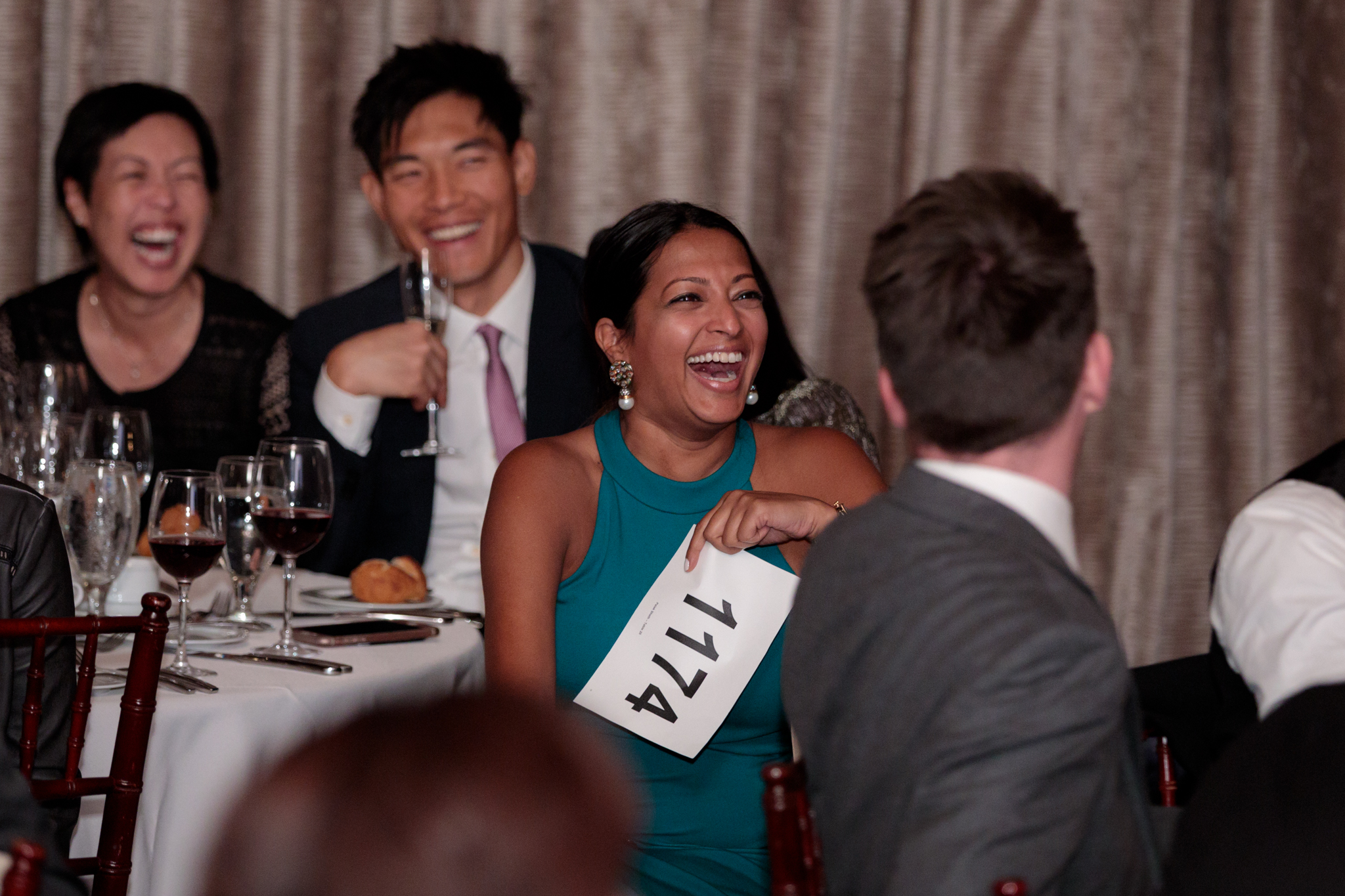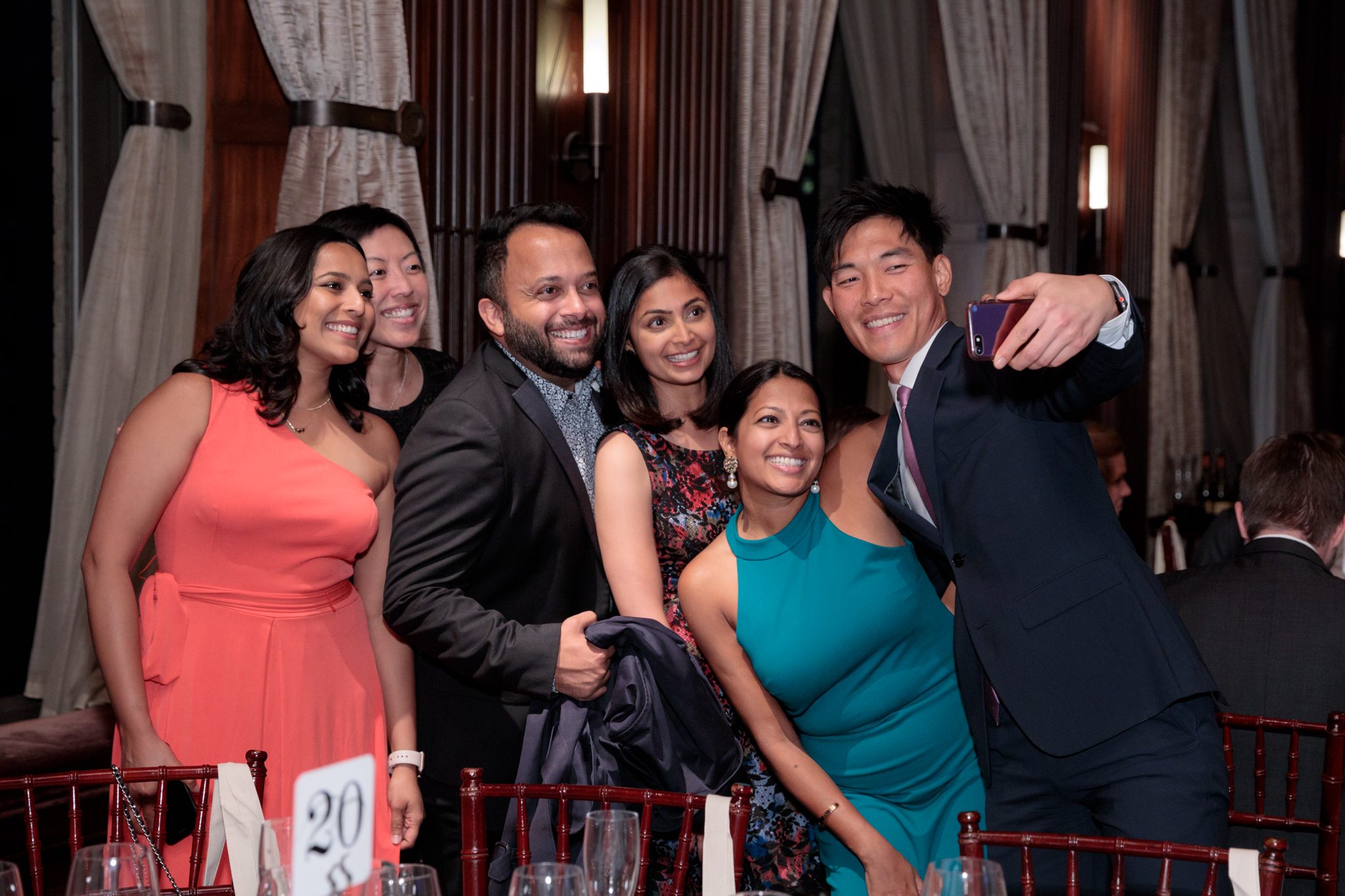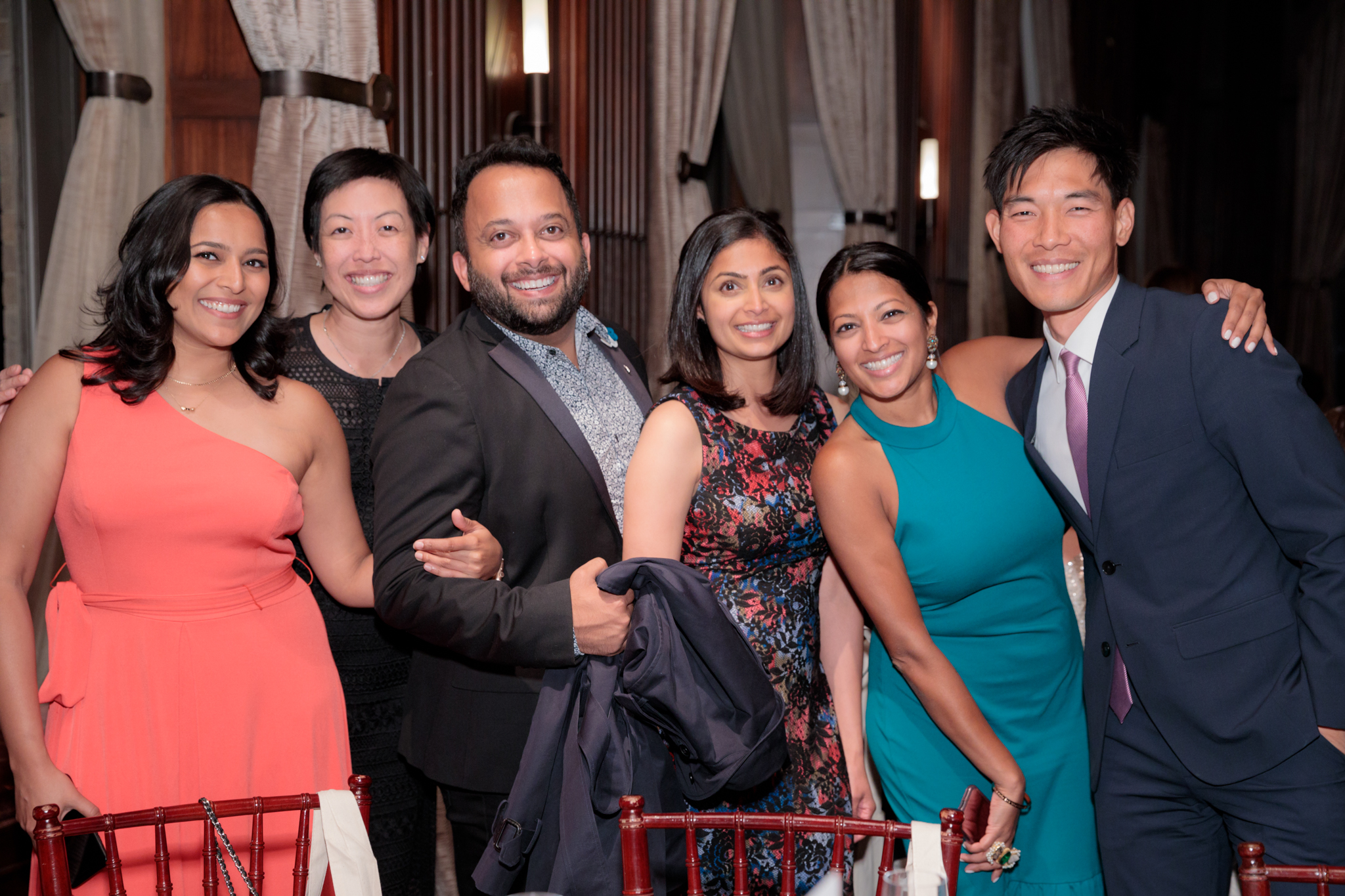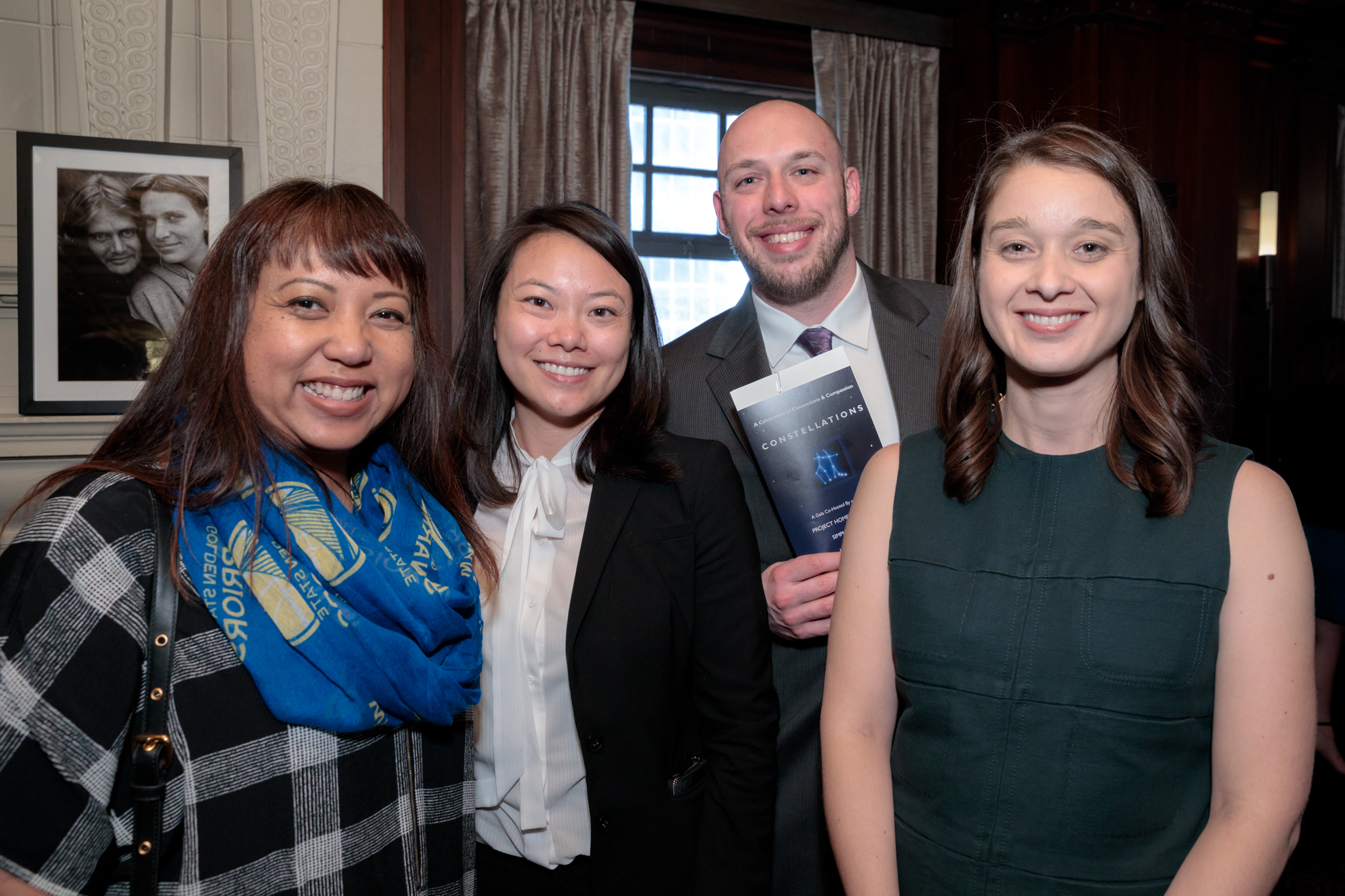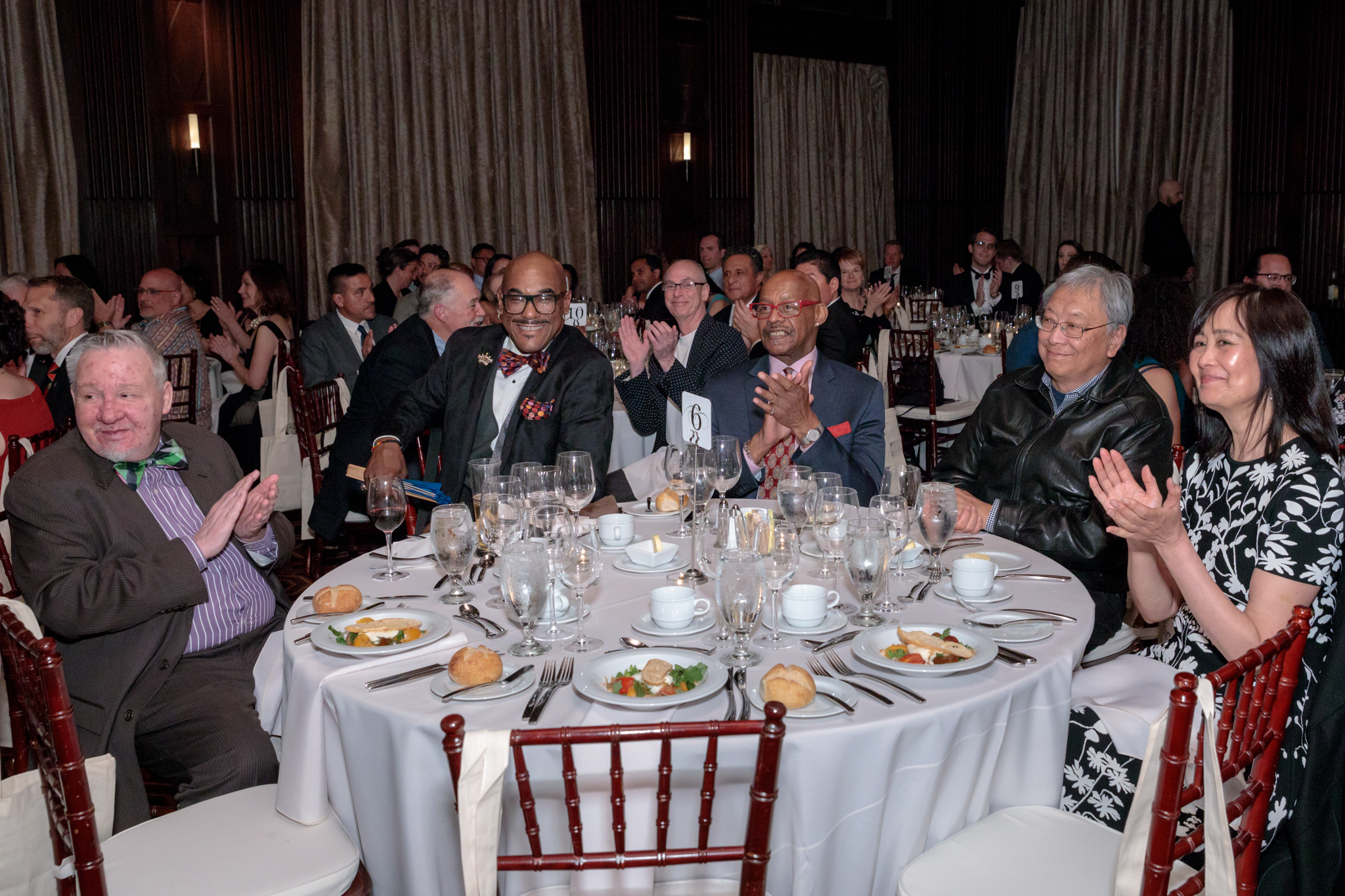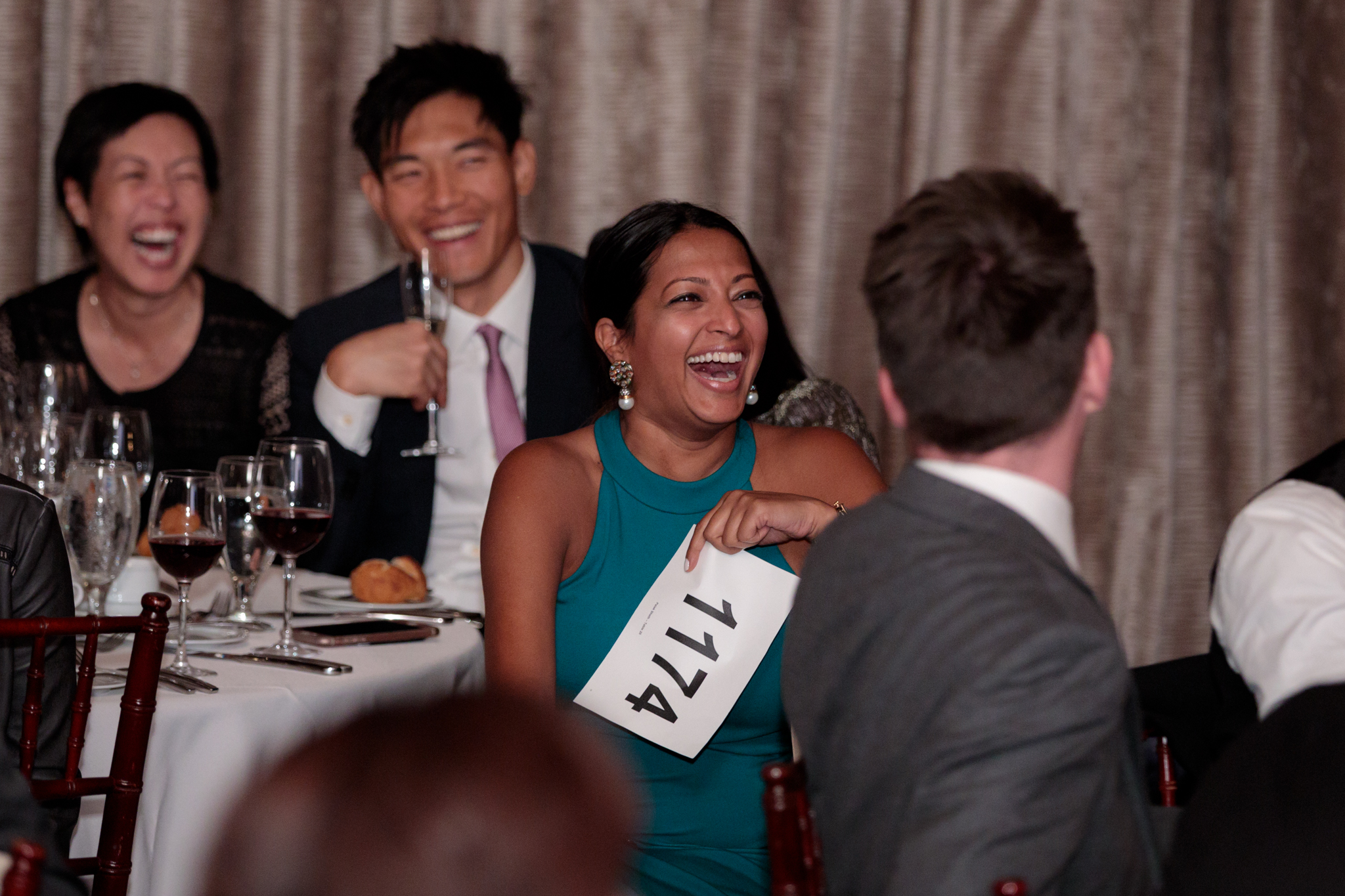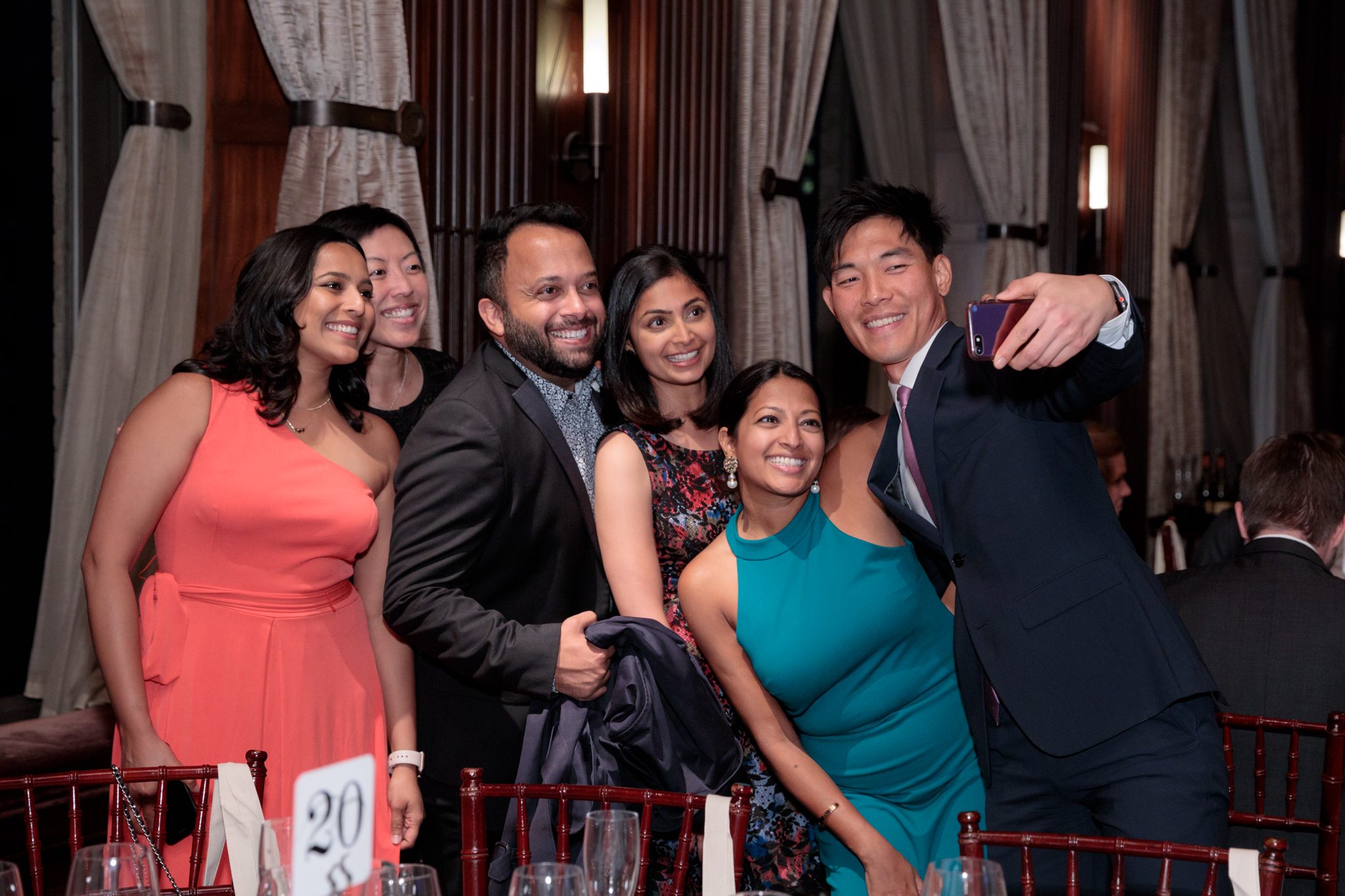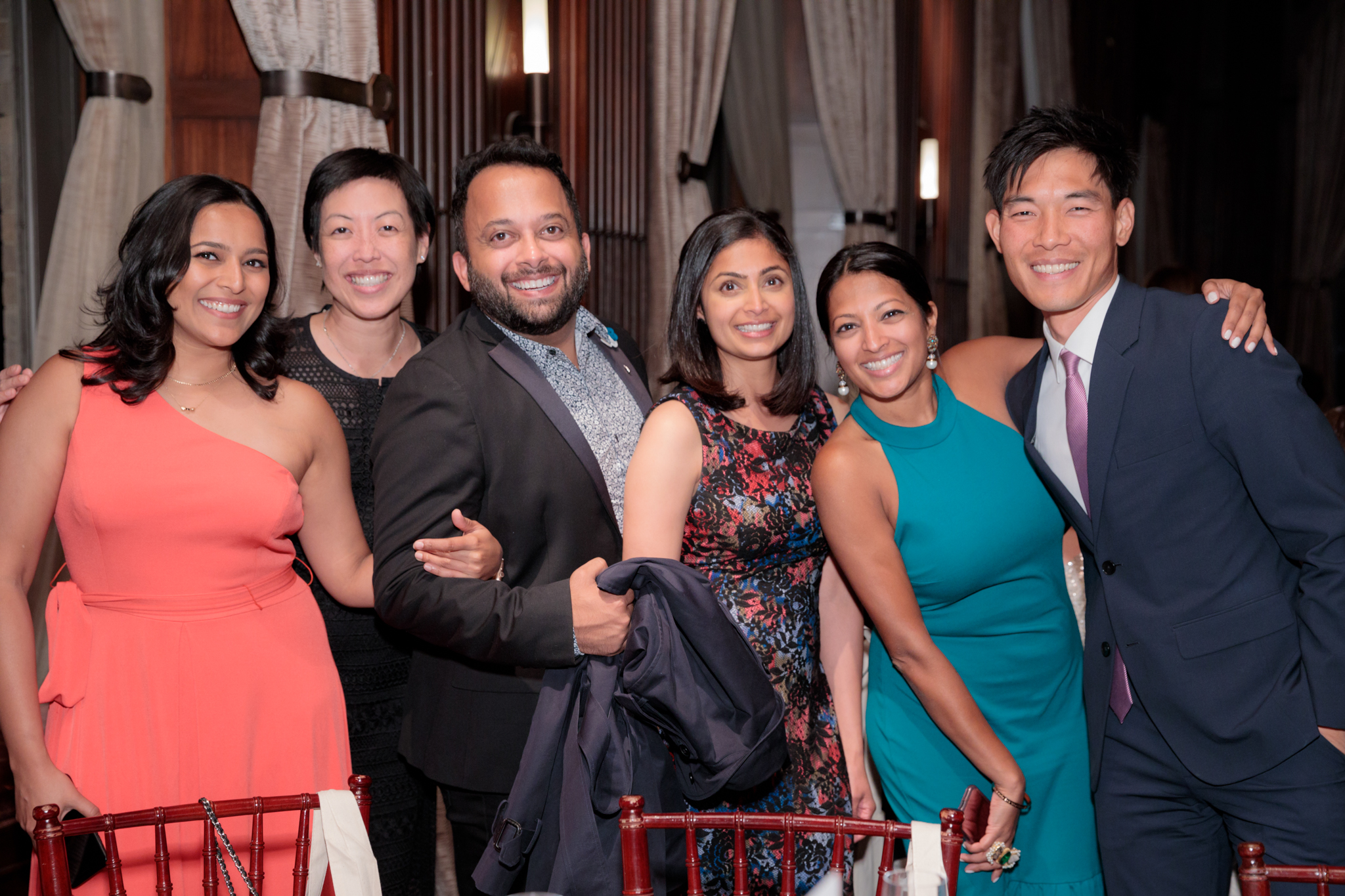 It was an honor to join more than 250 guests for a sold out evening and Simply the Basics' first gala on May 31st at the Julia Morgan Ballroom! The gala was unique because it was co-hosted with Project Homeless Connect, our partners in service and dignity to those experiencing homelessness and at risk of becoming homeless in San Francisco. By sharing in the costs and planning, every donation could make an even greater impact.
The VIP reception included wine, tasty hors d'oeuvres, and a silent auction that was a great success. Packages included roundtrip flights to anywhere in the US on JetBlue Airlines, over a dozen hotel stays across the country, wine tasting, and theatre tickets. A favorite for many was the live painting of the Golden Gate Bridge by artist, Jackie Lee Shelley, that a lucky winner was able to take with them that evening!
Kicking off the program was our founder, Meghan Freebeck, who is also the CEO of Project Homeless Connect. She highlighted the impact that can be made in homelessness services when providers are able to focus on treating a persons' unique challenges and problem solve based on those needs. Even greater, the longevity of impact is greater when provided compassionately. Above all, how it will take the support of everyone in the city, not only nonprofit employees and city officials, but every person to end homelessness - "because homelessness does not only effect a person with a home, it effects everyone in the community".
"There is a privilege to working in homelessness, we get to see the success stories. When most people walk around the streets of San Francisco, they are only able to identify the people that have not yet been helped. However, as employees of Simply the Basics and Project Homeless Connect, we know the others walking alongside of us that once were homeless and no longer are due to our services. We want to help you see what we see."
Following Meghan, we were honored to hear from Director of Homelessness and Supportive Housing, Jeff Kositsky. Only a few days before the election, we were reminded of the importance to involve ourselves in elections and have our voices heard as advocates for our neighbors without homes.
Supervisor Hillary Ronan echoed these same sentiments in her speech, which included the need to often roll up our sleeves and clean up the streets directly when no one else will, something she does every Wednesday in her district in the Mission!
For the second year in a row, and first for Project Homeless Connect, we gave the "Compassion Award" for dedicated service to our San Francisco neighbors to Troy Brunet. Troy has been a volunteer leader at Project Homeless Connect for many years, after first joining a friend at a Community Day of Service event, he now joins every event. Troy's specialty is as a Representative of the Reading Glasses area, where he trains volunteers to give exams for Reading Glasses and provides the best fit that day, sometimes distributing more than 300 pairs in a single day! What makes Troy so unique is not only how he serves with great energy the Participants, but also cares for volunteers and staff, ensuring everyone is receiving hugs and having a great time!
Priya Gupta, a member of the Simply the Basics Board of Directors, gave a moving speech about her first visit to DC as a child and seeing someone sleep outside, wondering why they don't have a home and bed like in her family. Today, she lends her expertise to Simply the Basics to ensure we are not only providing basic needs, but we are making a lasting impact. If you would like to revisit, you can read her speech on her blog here.
We shared several videos, including a welcome by Lt. Governor, Gavin Newsom, the Simply the Basics Documentary, and "Voices from Project Homeless Connect".
Following a delicious three-course dinner, our "Fund-A-Need" became the highlight of the evening, where we raised funds for our "Emergency Funds Program", shared with Project Homeless Connect. This program benefits people in an emergency so that if they are able to receive housing save for one barrier, we help them overcome that barrier, and those already housed do not lose their housing due to an unexpected cost. Thank you to our donors!
To close the evening, we were wowed by the musical performances by pianist Curt Pajer, Musical & Managing Director of Opera at the San Francisco Conservatory of Music, and baritone Andrew Ross, who has performed the roles of Older Thompson in Tom Cipullo's Glory Denied, Edmund in Jonathan Dove's Mansfield Park, and Shrek in Shrek the Musical. In the spirit of community, connection, and coming together, the duo performed a collection of modern Show Tunes and Classical Arias.
None of this would have been possible without the generous support of our sponsors below - thank you for helping us to host the first ever, Constellations Gala!
To enjoy the full gallery of photos of the evening, thanks to the support of Ginger Tree Photographer and Molly Watson, on our Facebook Page.